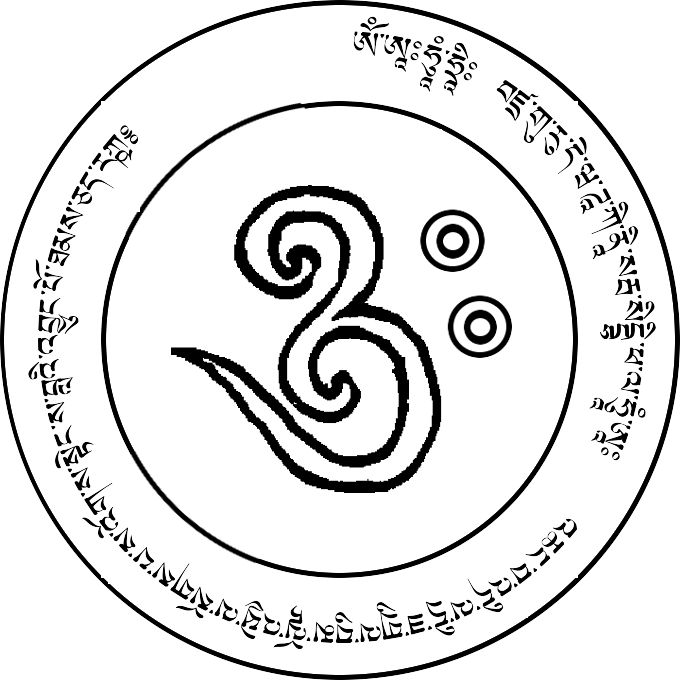 Protection from a hundred thousand gods and demons
This wheel-chakra is represented by the blood of people, horses and dogs. If you tie a Raven or vulture around your body with pieces of [feathers], you will be protected from harm by Gandharvas, kimbhandas, mahoragas, etc.
Inscription:
ཨོཾ་ཨཱཿཧཱུཾ་ཧྲཱིཿ བཛྲ་གུ་རུ་དེ་ཝ་ཌཱ་ཀི་ནཱི་སརྦ་སིདྡྷི་ཕ་ལ་ཧཱུཾ་ཨཱཿ འཆང་བ་འདི་ལ་དྲི་ཟ་གྲུལ་བུམ་ལྟོ་འཕྱེ་ལ་སོགས་པ་ས་འོག་ས་སྟེང་ས་བླའི་འབྱུང་པོ་ཐམས་ཅད་རཀྵ༔
Let the protection of this [person who] holds the [chakra] be revealed from all the elemental spirits above, below, and on earth, such as the Gandharvas, kimbhandas, reptiles, etc.!