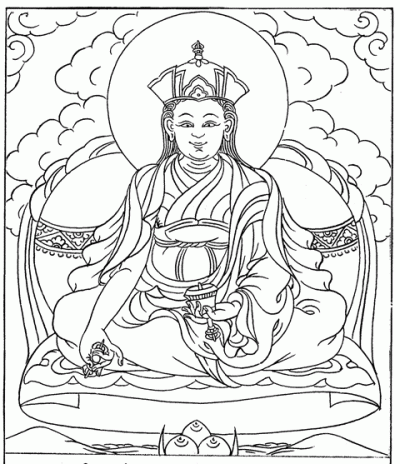 Liberating acts of the section eating of ganapuja from the " Beautiful Garland of Flowers"
     Imagine as real enemies and obstacles that do harm, in the form of substances of ganapuja in the burning pit, where the Karma-Yama is burning as the essence of this vessel of ganapuja. From the heart of one's own devat [appear] messengers with iron hooks, harnesses, iron chains and bells. They capture the weak, the enemies and obstacles that do damage. Capturing, dissolve in skandha form. Imagine that.

     Make an iron hook mudra and speak:
     Hum Hri!
      [I invoke] the perfectly pure truth of the blazing assembly of guru-teachers, peaceful and wrathful deities, together with the protectors of the Teaching and the guardians of the Teaching who have vows! [Encouraged] the truth of the blessings of mantra, mudra and Samadhi! Hear ye the commands of these truths!
      If you do not listen and depart from the orders, then all the destructive Rakshasas, devouring demons, rudras, obstacles that do harm, enemies that are angry with me, others, deities, brothers and sisters, etc. - will be instantly called into this skandha of form!
     oṁ vajra takiraja hūṁ ja
     vajra aṁkuśa ja
     vajra pāśa hūṁ
     vajra sphoṭa baṁ
     vajra gaṇḍe hoḥ
     Hum Hri!
      On the host of demons-Mara, Rudra, malicious enemies and obstacles falls a rain of five types of blazing weapons!
      Five weapons are dropped, such as the shattering hammer, the severing sword, the striking mace, the gripping iron hook, and others. When they touch the heart, they break it into a thousand pieces! When they come in contact with a poisoned body, they break it into powder a hundred times!
      Even the burning in the hearth of the skandhas of form and consciousness is broken into a powder that is like dust!
      Dust! Dust! Powder! Powder! Pieces! Pieces! Suspended!
     māraya — Pieces!
      Pieces — bed bed!
     oṁ vajra tikṇa kha tham māraya ja ja
     Eat it! Eat it! Feeding the mouth of the assembly of deities!