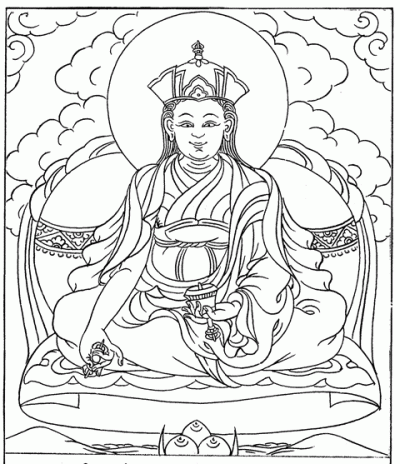 Protecting your own body
     Then putting on armor and protecting your own body.
     How wonderful!
      From the spontaneously perfect palace of self-arising perfect purity [emerges] a space of play that transcends all the limitations of eternity and non-existence! [It is] an unsurpassed armor, unchangeable and indestructible! Unsurpassed armor is stable in strength!
      A space where the five blight-flared poisons are released on their own level! On the basis of gathering and radiating the five types of light rays of primordial wisdom, everything is filled with chakra, vajra, jewel, lotus and crossed vajra. When filled, [appears as] the unsurpassed armor of the five Sugat families!
      Wearing a completely unsurpassed armor, [I appear in] the unchanging body of the Victorious in the city of illusion! Armor without destruction and passion is stable in strength!
      All composite — do not harm or destroy! Armor of the void — unbeatable! Having destroyed all the objects of thoughts and signs, that which arises is released as self-arising and unrecoverable! How wonderful!
     mahā śunyaita jñāna vajra svāva rakṣa rakṣa hūṁ
     Since the names and signs of oneself and others are not established, [it appears as] not composite, not born, not abiding and not suppressed! Since it is covered by the armor of dharma space, even the Enlightened Ones of the three times will not see it!
     oṁ rakṣa rakṣa samanta rakṣa rakṣa hūṁ phaṭ
This is how the unsurpassed armor, the armor of the emptiness of everything, is put on.