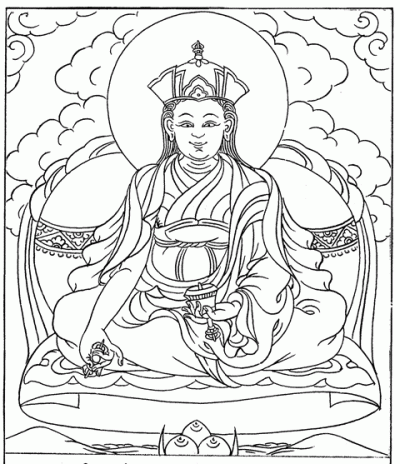 Collection of thoughts of the teacher-guru
Protecting the body from external and internal worms
    To protect the body from external and internal worms, mix the blood of a wolf, owl and mouse with the meat of a black scorpion and ink. After mixing, draw a chakra similar to a small drawing. When you do this, create three Roots in the middle of the multicolored vajra. Repeatedly chanting the mantra of the chakra in the world, make the consecration. Tie it with snake skin or frog skin. Having done so, tie the body of the one you are protecting. Because of this alone, the body of the protected person will blaze like a crossed vajra of celestial iron and will radiate sachcha.
    Representing this as one, while the chakra is on the body, the heaviness will disappear and you will be protected from harm and damage due to rakshasas [here-worms], etc.
    Also for everything, take mustard, silver ash, musk, halo flowers [ha lo]. Mixed with honey and intoxicating [drink], spread on the body. Thanks to this, there will be opportunities.
    Mix the juice of frankincense, black calamus, musk, merurche [me ru rtse], ong tang rtse ['ong tang rtse], black bom [bom nag]. Mix, cook with yellow myrobalan and leave for three days. After mixing your own face with the dried powder, make a raw pellet of the pill, mixing it with the powder [and presenting] Akshobhya.
    Then take three times three times each morning on an empty stomach.
    In this way, the harm from the rakshasas [or worms] appearing inside the body will be calmed down.
    Samaya. Seal. Seal. Seal.
    Translated by Lama Karma Paljor.