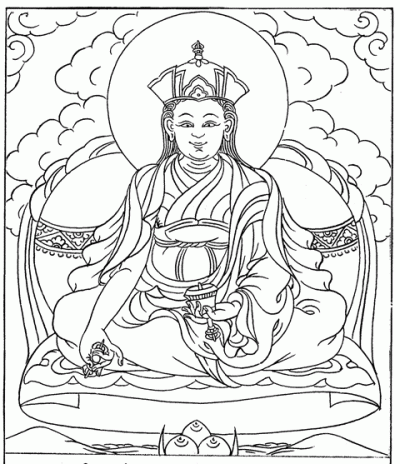 Collection of thoughts of the teacher-guru
Protection from harm to horses and livestock
    If you want to protect horses and cattle from harm, draw a chakra that corresponds to a small drawing of the chakra. In the middle, draw the desired shape of a horse or cattle for protection and names to increase, words to protect. The chakra is conceived as a particularly angry yaksha. Meditate on what you protect as being in his heart. Repeatedly read Martyr chakra and make the consecration.
    Then wrap the chakra with graveyard silk and tie it on the body of the protected person. Thanks to this, until it is released from the chakra, any horse, cattle or animal will not be damaged by anything, whether it is people, non-humans, thieves and robbers, predators, etc.
     So it will appear as a defense.
    Samaya. Seal. Seal. Seal.
     Translated by Lama Karma Paljor.