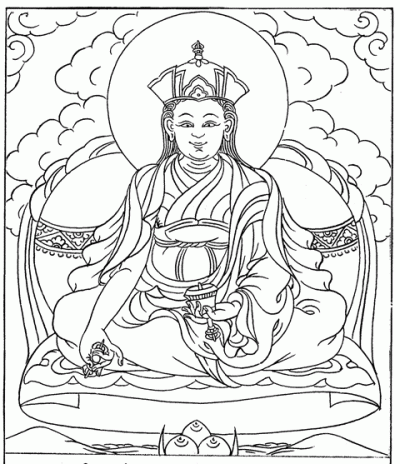 Collection of thoughts of the teacher-guru
Sword for battle
    If you want to make a defense with a sword for battle, on red silk [draw] the blood of the dead man's chakra, which corresponds to a small drawing, with a knife and a blacksmith, writing down the syllables in the u-chen font. Having done so, draw the calculations for the sword and do nothing more. Meditate on the fact that there is a golden vajra blazing with power. In the center of it, contemplate the one you are protecting. Perform the consecration with the recitation of one hundred and eight chakra mantras. Without passing it into human hands, wash the body of the protected person with your own urine. Smoke incense. Tie the chakra with silk without touching the sword. Tie it without hiding it, and tie it on the body of the protected person.
    When sparks of sachcha are emitted and the protected person burns like an iron vajra, the chakra is bound with a cloth with camphor and meltwater. Imagine being blessed by a gathering of teachers-guru, deva and dakini. When you do so, make a single empowerment to the general torma of magic weapons. Imagine that because of this, the protected body will not be damaged due to any types of weapons. As a heart commitment, it appears that the blacksmith and the woman should not see the chakra. It is also important not to touch [it]. Thanks to this, it will be protected from the harm of weapons.
    Samaya. Seal. Seal. Seal.
     Translated by Lama Karma Paljor.