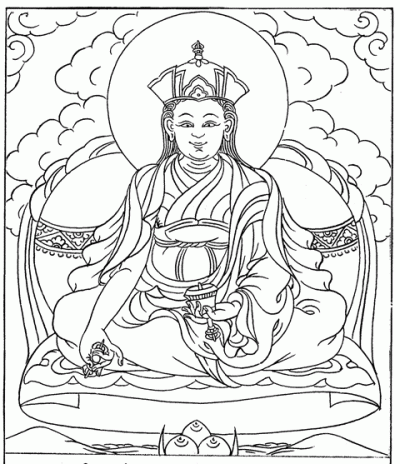 Collection of thoughts of the teacher-guru
Protection from the eight fears

    To protect yourself from the eight fears, mix camphor, ghi hang, musk, asafoetida juice with black ink. Make an image in accordance with a small drawing of the chakra. Smoke incense. Having conceived the glory of the chakra as Vajrapani, in heart of this imagine the palace of guru, deva and dakini. In the midst of it, imagine the protected one possessing splendor. Perform with your own mantra the sanctification of the chakra, which corresponds to the [general instructions]. Tie the chakra with five-colored silk or five multi-colored threads. Having done so, tie it on the body of the protected. Say the stanzas of good luck wishes.
    Due to this, until then, until you are released from the chakras will be protected from fear of water, the possibilities of lightning, fear of fire, fear of predators, fear of poisonous snakes, fear of punishment of the king, fear of poison, fear because Pesach, such as Dakini, etc., violent fear of enemies and robbers.
    Samaya. Seal. Seal. Seal.