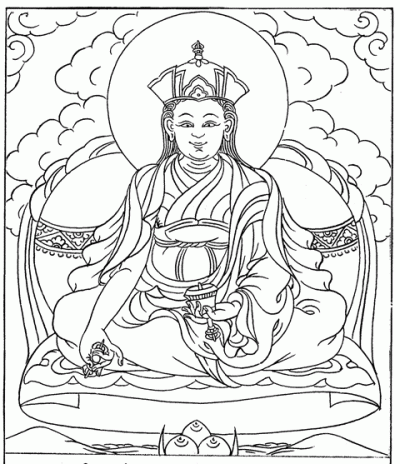 Collection of thoughts of a teacher-guru
Instructions for mixing and transferring
     Praise the guru, deva, dakini!
     I prostrate before the guru teachers, the devata deities, the dakini assembly!
     A yogi who works hard for liberation should meditate according to these mixing instructions. On the outer level, day and night are inseparably mixed. On the inner side, you mix with the [unity] of clarity and emptiness, the great bliss. On the secret - the way of seeing is mixed, the state in balance and after it. On the absolute, wisdom and the oneness of bliss and emptiness are mixed.
     This is the way in which two yogas, such as the vastness and openness of the manifestations of the day and the yoga of the night, are mixed in inseparability.
     During the day, you come closer to the elevation and balance of the vast celestial space. When you arrive, make up a body position, staying in a state of balance with your legs crossed. As for the wind, then train in long breaths and exhalations. As for the mind, the compartments are the ornaments of the three times. This freshness of awareness of the present [moment] will naturally be established, without actions and without constructions. The position of the eyes is fixed in space. When the objects of the sense organs, such as form, etc., are manifested, free yourself from clinging to magnitude, enumeration, suppression, and establishment. Whatever manifests itself is immediately released [and appears] in space in the natural face. What is sealed by manifest being, samsara, and nirvana, is seen as a play of appearances, sounds, and illusions. And even if something appears as good or bad, when the absence of fetters and liberation is established, mix in inseparability and rest in balance.
     On the basis of such an entity, you will show behavior with your body and speech without giving or discarding. You will purify yourself in the essence that is free from attachment to all manifestations. Rely on the oral instructions about mixing samsara and nirvana.