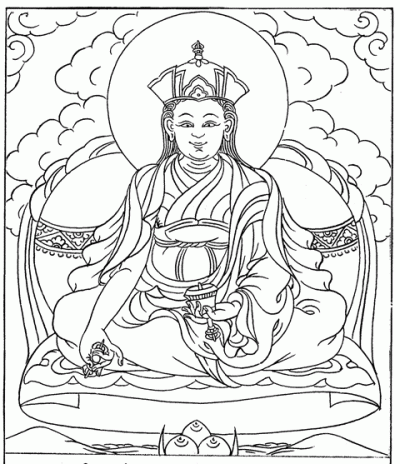 Collection of thoughts of a teacher-guru
Instructions on transference, the taste of death and the moment of dying
     Praise to the guru, deva, dakini!
     May the beings who strive for the ultimate enlightenment practice the teachings of transference, which are like the teachings of the heart, the teachings of the taste of death and the moment of dying. Let the essence of gaining freedoms and achievements be realized.
     Here you can see instructions about the transfer. There are six General points: what is a personality that migrates; what is the object of the transfer, what is the transfer method; what are the flaws when you do not have the instructions on the transfer; what are the qualities of a transfer when you have a instructions on the transfer; instructions to transfer.
1 Personality

     There are three types of personality.
     A being that has holiness, purity, and power. Since it corresponds to the time of the Enlightened One and has released the seals of the body, it does not correspond to the instructions on transference.
     A person that has not accumulated in the lives of the people. Even if it now acquires a human body, it restores the behavior in relation to such actions and the fetus. On this basis, relying on the manifestations of the power of the bad is not sealed by the mark of transfer when performing unprecedented bad actions. Even if it is marked by a transfer, then hoth is said about liberation, but it is possible to obtain the body of a person or gods as the fruit of the transfer received. The fruit will not be becoming Enlightened.
     However, based on this, you will be marked with the seed of liberation. And because of this, you will have a rise [up].
     Thus, what freely penetrates from above and freely penetrates from below corresponds to the introduction of a snake into the hole in the sprout. This corresponds to a destination somewhere else [location], which is not correlated with the top and bottom.
     A person who is not these two becomes old, adult, young, and so on. Enters the path, is ordinary, acceptable as male, female, and asexual. Therefore, when they have instructions for transference, they appear as revealing the particular at one moment called "The taste of death and the moment of dying".