Library - First volume of Lama gongdu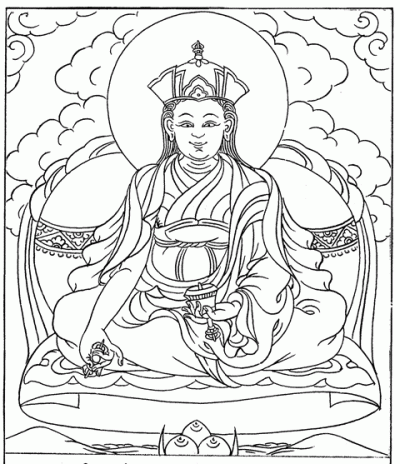 The emergence of the prediction and the doctrine
    Om mani padme hum Hrih!
    The essence of the body, speech and mind of all the Enlightened of the three times! I pray to the Lord of Uddiyana who establishes beings [in a state of] happiness!
    O son who bestows divination and sheds the Teaching through the blessings of his compassion! [You] rain down the treasury of the holy Teaching for the monk Sangye Lingpa!
    The first one here [is this]. In accordance with this, in the gate of the highest place of Chari, while performing the secret practice of the dakini, a manifestation of direct experience was manifested. In a dream met a dakini and the comprehension of experience was ignited. Boundless wonders appeared, such as the meaning of entering blessings, etc. Particularly when turned to the radiance of gods and demons, the practice of the holy Doctrine of Terma, keys and divination appeared constantly. Fears disappeared and warmth and joy appeared.
    Then for the preceptor Chholo, etc., and those who correspond to the guru teachers, brothers and sisters, explained the instructions of the keys, etc. [Having done so,] said, "Not true and false." After having said that, there also appeared some attacks and instructions concerning the body.
    Chokyi Lodreux himself said: "Nevertheless, since it is not hidden by the edges of being, the speech of the teacher is shown by the rolls of paper. On this basis may the guru-teachers be granted sustenance for practice, such as the substance of the practice of terma, etc. And may [everything] be realized!"
    Then, as joy and bliss appeared, in the mountain retreat atop Lhundrub, everything in accordance with the practices of the terma began to be realized. At that time, to those who had the signs of realization, which were elucidated accordingly, thanks to the guru-guru, devas, dakinis, guardians [those with vows] and protectors of the teachings, blessings, initiation and siddhis were bestowed visibly or in the experiences of sleep. Predictions, blessings-jenangas, etc., were realized. Obstacles have been dispelled and obligations have descended.
    This is the first, chapter of the emergence of divination and doctrine.