Library - First volume of Lama gongdu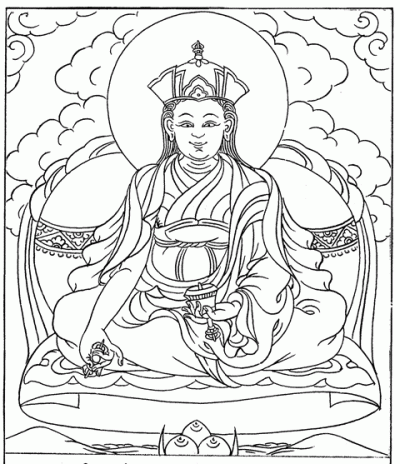 The extraction of the terma from Puri Phugmoche
    Then according to the sequence of the lineage of transmission [is shown] the way of demonstrating the holy teachings of the treasures.
    In the beginning there was a place in Sulthren on a mountain in central [Tibet, which] was visited by the feet of the Great One from Uddiyana. In the place where the dakinis and the assembly of mamo gather, a strong movement of nagas and prices was shown. [On this road] in the highest place of Puri Phugmoche for the first period of the morning of the twenty-fifth day of the middle month of the autumn of the Dragon-Man-Tree year, [the] cycle of the noble Avalokiteshvara's teachings, the Jewel of wish fulfillment, was inaugurated. [Also revealed were] cycles of practices corresponding to the kriya-tantra, [the teachings of] Lama Gongpa Dupa, the dark red devata Hayagriva, and the "Shining Mirror of the Dakini." Thirty scrolls were retrieved, including those and the red Lokeshvara, etc., practices based on incipience and completion, etc. At this time there were signs of the entrance of blessings and magical manifestations of the protectors of the teachings, nagas and tsen, such as sounds and beams of light, earthquakes, etc.
    Such is the second - chapter of the extraction of the terma from Puri Phugmoche, the extensive house of practice [of the teacher] of Uddiyana.