Library - First volume of Lama gongdu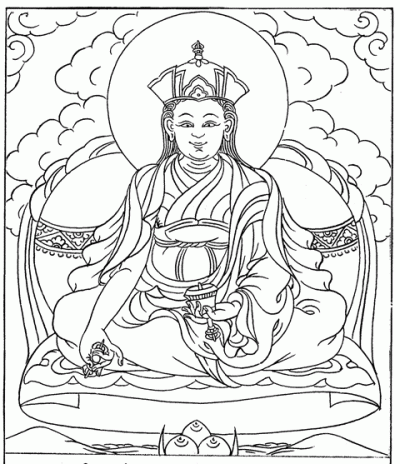 The extraction of the terma from the red rock of Tsachen
    On the fifteenth day of the same month, from the red rock of Kongpo Tsachen were extracted [the teachings] called the Stage of Emergence "the source of all that is desired and necessary. Also extracted [were] the practice of peaceful and wrathful [deities] "Eight teachings," the essence tantras [spyi ti] of Great Perfection and the stage of completion, the practice of Kilai "Quintessence of Mind," the cycle of wealth practices "Holder of Siddhi Wealth," the cycle of increasing fools' procreation "Important Series," the Bernagchen defender cycle "Power of Life," three cycles of "Blades," etc. [There were extracted] the tantra of exile "Knowledge of Destructive Poison," the Black Tramen, etc. [Numerous methods of discarding bad visions, the white aspiration to happiness "Sheep Leadership," etc., were extracted.
    In brief, one hundred and twenty-seven scrolls on [the activities of] appeasement, increase, subjugation, and the powerful were extracted. Also extracted were the substances of the vows, such as the crystal from the hand of [the Guru of] Uddiyana, the pills of mighty blessing, three measures of golden substances, the image of the lotus cap and the lotus torma, and the mask of the countenance of [the Guru of] Uddiyana. At this time, limitless comprehension and non-conceptual experience of [unity of] bliss and clarity appeared, great sounds such as Hum and so forth filled the spaces of the rainbow, bodily forms, syllables and letters were seen. Magical manifestations of Rahu, Dorje Legpa, Tsen and Tenma, the defenders of the Teachings, were arising.
    Such is the fourth, the chapter of the extraction of the terma from the red rock of Tsachen.