Library - First volume of Lama gongdu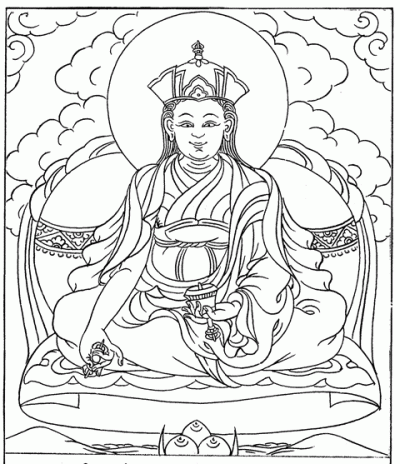 Retrieval of the terma from the Dzongring Trashi Phugring
    On the morning of the warmth of the eighteenth day of the eighteenth day of the first month of the autumn of the year of Tiger from Dzongring Trashi Phugring appeared a cluster of light, Vidyadhara Garab Dorje himself. At that time, by virtue of compassion, he emerged from the rays of compassionate light. After disappearing, Manjushrimitra appeared along with the stamens of the flower. And that which was concealed [by the teacher from] Uddiyana as a terma for the sake of the thoughts of the good of the future was extracted. At that time a house and a tent of rainbow light, rain of flowers, noisy sounds, earthquakes, and other visions appeared.
    This is the seventeenth, the chapter of the retrieval of the terma from the Dzongring Trashi Phugring.
    All of this is a condensed history of the retrieval of the term by Sangye Lingpa from the age of twenty-five up to the age of thirty-five.
    This concludes the story of the emergence of the termas.