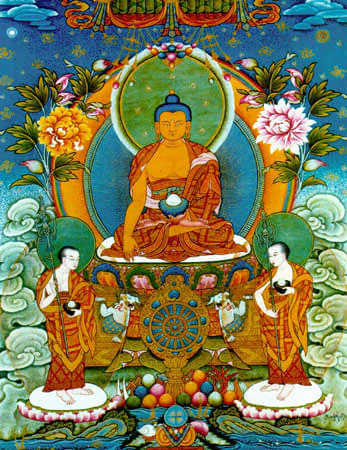 ārya-buddha-anusmṛti
Remembrance of the Enlightened One
I praise all the Enlightened and bodhisattvas!
One such is the Enlightened One, the Blessed One, the Tathagata, the arhat, the truly perfect Enlightened One!
[Possessing] knowledge!
Pious!
Sugata!
Perceived the universe!
The unsurpassed leader of beings, disciplining beings!
The teacher of gods and men!
Enlightened, Blessed One!
This Tathagata is the acceptable cause of the pure field of merit!
[In him] the roots of virtue are not lost!
Adorned with patience!
The foundation of the treasuries of spiritual merit!
Adorned with good marks!
Fully revealed with the colors of the marks!
Acceptable object [of perception]!
If you see it, it will not be inappropriate!
Joy to those who trust and believe!
Not suppressed by wisdom!
Unconquerable in strength!
Teacher of all living beings!
Father of bodhisattvas!
King of noble faces!
Leader of those who march to the city of nirvana!
Infinite in original wisdom!
Unimaginably serene!
Perfectly pure in speech!
Melodious!
It is impossible to gaze upon the corporeal form!
The body is incomparable!
Not hidden by passions!
Untouched by forms!
Not mingled with the absence of forms!
Completely free from suffering!
Completely free from accumulations-skandhas!
Not possessed of the elements!
Stopped the sources of arising-ayatan!
Completely dissolved the bonds!
Totally free from all sorrow!
Totally free from thirst!
Came out of the river [of cyclical existence]!
Perfect in original wisdom!
Abides in the wisdom of the Enlightened and Blessed past, present and future!
Not abiding in nirvana!
Abides in the limit of the absolute!
Abides on the level of looking at all beings!
These are the qualities of true greatness, the original wisdom of the Tathagata!
Thus completes the noble [teaching], the remembrance of the Enlightened One.