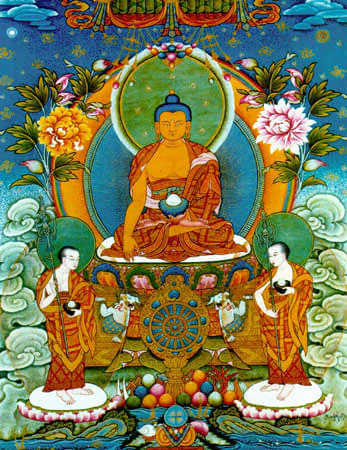 dharma-anu-smṛti
Remembrance of the Teaching
I praise all the Enlightened ones and bodhisattvas!
Holy Teaching - proclaimed as good!
Realized as pure!
Virtuous in the beginning!
Virtuous in the middle!
Virtuous in the end!
Good in meaning and good in speech!
Not mixed up [with pernicious] and perfectly pure!
Perfectly pure and perfectly purified!
Doctrine and discipline-vinaya - Enlightened, Blessed is proclaimed as good!
Truly attained!
Painless!
Not cut off in time!
Entrusted [in the hands]!
When one sees - the meaning is present!
By wise men it is learned!
Doctrine and discipline-guineas are nobly clarified!
[Brings forth] renunciation!
Leads to perfect enlightenment!
Conforms to the acceptable and does not conform to the unacceptable!
Possesses support!
Prevents the ordinary ways [of beings]!
This is how the memorization of the Doctrine is completed.