Library- Canonical work - Kangyur - Kriya-tantra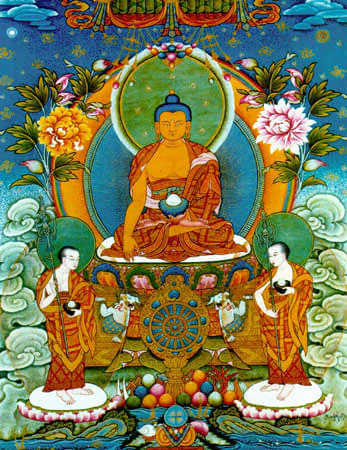 ārya-maṇi-bhadra-nama-dhāraṇī
Dharani of the noble Manibhadra
    I prostrate before the Three Jewels!
    So I heard it once.
    The Blessed One was in the aram of the garden of the prince of Kosala, Anathapindaka, in Shravasti. Then Manibhadra, the great head of the yaksas, approached the Blessed One. Approaching, bowing his head at the feet of the Blessed One, he sat down in front of him. Standing before him, the great head of the yakshas, ​​Manibhadra, addressed the Blessed One with the following words:
    If any noble monk or nun, virtuous layman or laywoman repeats this heart-essence every day in three periods of time, they will see that they are constantly following me. [By this] they will accomplish whatever they wish. They will find the given food, clothing, jewelry, gold, precious [things], seeds, silver. [Through] the essence of this will also make everything come true. This will also bring about the subordination of all beings. They will attain achievement even if there are no various deeds to be accomplished. They will not be touched by those who are in conflict.
    nama ratna trayāya na mo maṇi bhadrāya mahā yakṣa sena pataye syād yathedan hili maṇibhadra hili hili maṇibhadra kili maṇibhadra kili kili maṇibhadra cili maṇibhadra cili cili maṇibhadra culu maṇibhadra culu culu maṇibhadra curu maṇibhadra curu curu maṇibhadra turu maṇibhadra turu turu maṇibhadra kuru maṇibhadra kuru kuru maṇibhadra suru maṇibhadra suru suru maṇi bhadra sarva arthaṁ mesā dhaya svāhā tadyathā pūtane supūtane surume sumāti surāthe sasma pate hilike hila kāli pārne siddhe bhadra hili hili svāhā ehi koniṣke ehi soniṣke ehi goniṣke svāhā
    If you repeat it seven times, you will accomplish [everything]. This is the ritual of it. When on the fifteenth day of the waxing moon you carry out the [ritual] of purification, in three periods of time, burn incense from fragrant aloe. If you carry out the proclamation [dharani] seven thousand times, you will find gold.
    Thus ends the dharani of the noble Manibhadra.
    Translated by the Indian teacher Vidyakarasimha and the translator Bende Luivangpo. Translated by Lama Karma Paljor (O. E. Filippov)