Library- Canonical work - Kangyur - Kriya-tantra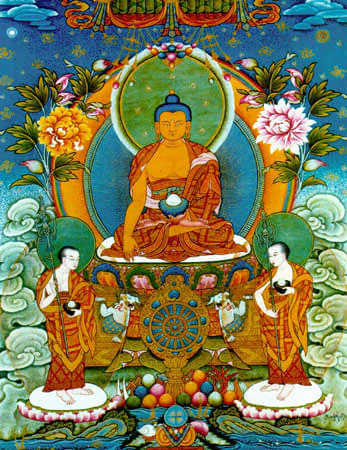 ārya-jambhalaśrī-nāma-dhāraṇī
Dharani of the noble Jambhalashri



    So I heard it once.
    Blessed Vajrapani was surrounded by many yaksas in the holy place of Adakavati. At this time, the Lord of the Secret say to the King of the Yakshas, ​​Jambhalashri:
    I ask you to show you the mantra of knowledge and the essence of your life force in order to calm the suffering and poverty of sentient beings! I will be given a blessing!
    Then Jambhalashri said:
    Master of the Intimate, Blessed One! I have to clarify the mantra of knowledge for the pacification of the suffering of sentient beings. [May they] drop suffering and find happiness! Wanting to complete two great accumulations, let them fill in and repeat this mantra of knowledge so that your own body:
    nama ārya jaṁbhala mahā jaṁbhala tadyathā rararara kunu kunu khunu khunu gunu gunu sapa sapa kara kara mahā viraram mahā karado maraṣa haraṣa tuma sarva satvā nānca svāhā
    The Blessed Lord of the Secret repeated this mantra and repeated the mantra seven times over the blue thread. If, tying a knot at each repetition, you entangle your shoulder, then you will achieve the desired and no harm, which is good. A medicine composed of incense, sandalwood, fir, and the catarrh plant should also be bestowed.
    nama ārya jaṁbhala namo dantāya danti śvarāya ākarṣaya akarmita danti śarvāya varma karduniya sarva satva hitajiti mama danta namaḥ variyaśa samaya ākarśa svāhā
    This mantra should be repeated seven times for purification-purity. Then follows the realization of the secret essence of the heart. As before, make offerings to the Three Jewels and the Lord of the Secret, Vajrapani. Having done this, then pronounce everything, starting with your own name. By doing this, you will realize the acquisition of material wealth and everything you desire, and happiness will be given. Then I will repeat this jewel of wish fulfillment, the secret mantra. If you exercise for [the practice of] the deity of meditation, you will achieve all that is necessary and desired, which will be good.
    Then the king of the yakshas, ​​Jambhalashri, bestowed upon the glorious Vajrapani a similar jewel of wish fulfillment with his own essence-heart:
    nama ārya jaṁbhala mahā jaṁbhala tadyathā simi simi sumu sumu ścaṇḍa ścaṇḍa cara cara sara sara kara kara kiri kiri kuru kuru muru muru curu curu sadaya dama mama nidama ananta dānate svāhā ārya jaṁbhala svāhā dhantāya svāhā manoratha varipūra kāya svāhā
    Then the glorious yaksha, who owns the yakshas, ​​said to those around him [the mantra] of his own essence-heart:
    oṁ jaṁbhala maṇi bhadrāya svāhā
    oṁ jaṁbhala pūrṇa bhadrāya svāhā
    oṁ jaṁbhala dhanadāta bhadrāya svāhā
    oṁ jaṁbhala mahā dhana dāta bhadrāya svāhā
    oṁ jaṁbhala civi kuṇḍali svāhā
    oṁ jaṁbhala kili mālini svāhā
    oṁ jaṁbhala mukhendrāya svāhā
    oṁ jaṁbhala jalendra bhadrāya svāhā
    Then the Sovereign of the Intimate One said:
    Master of Wealth! Everyone who keeps this dharani of yours, ties [around the body], asks, or reads - happiness will be given in accordance with aspirations.
    Then the Lord of the Yakshas said to the Lord of the Secret:
    This is true!
    Walking around three times in accordance with the teaching, he sat down.
    Thus ends the dharani of the noble Jambhalashri. 
    Translated by Lama Karma Paljor (O.E. Filippov)