Library - Canonical work - Tengyur - Comments on tantras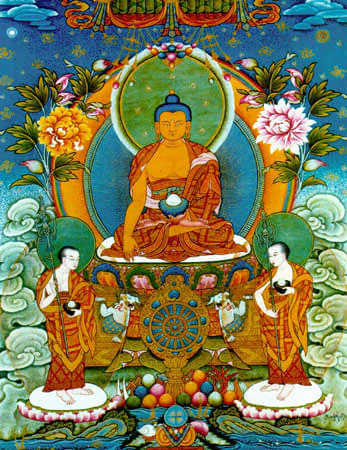 tarpaṇa-vidhi
The ritual of giving water
    I prostrate before [the one with] great compassion who has a large garland!
    A yogi with great mercy will be zealous in offering the gift of water to the poor, such as hungry ghosts, etc. Due to the preliminary coming to one reason, realize the remembrance of the essence of the Noble One. When you do so, complete the [combination] of the neck and hands in the mudra. Through this you will bring about completion.
    The right hand with the moon in the middle [palm] possesses primordial wisdom. [Syllable] a is surrounded by a garland [mantra]. Having made [the visualization] clear, [I am] the seven unchanging from the top of the nameless. [Begins] to drip a special stream of nectar, pouring out [from there].
    The decorated lotus is a precious vessel. Filled with water that is radiant and fresh. [Falls down] into the lotus ocean like a stream of rain. The flowing nectar of primordial wisdom mixes [with water]. Having destroyed sorrow from avarice, [appears as] the cause of the universe, which has a corresponding form. Thus, rays of light from the palms of the hands fill the earth that gathers in front of [me].
    oṁ āḥ hrīḥ mahā kāruṇika prasāda sarva preta pratyud tasī ghraṁ ja ja jaḥ
    Then clearly [visualize] the mudra and mantra from the meteor of rays of light. Because of this, imagine a flaming tube in the body language of everyone. Exercise the gift by reciting four syllables:
    oṁ āḥ hrīḥ hūṁ
    Once you are satisfied with the nectar of food, transform the place. If you acquire a divine body, even an exhausted mind will be satisfied thanks to the granting of the stanzas of the Teachings of Sugata.
    In conclusion, through prayers-good wishes, carry out [actions] as for matured disciples. When you make the mudra of service on the path and show the command, you will immerse yourself [in a state where] everyone disappears in happiness.
    This completes the ritual of giving water.
    Translated by Lama Karma Paljor (Filippov O.E.).
Make an donate on the page: Project support