Library - Canonical work - Tengyur - Comments on tantras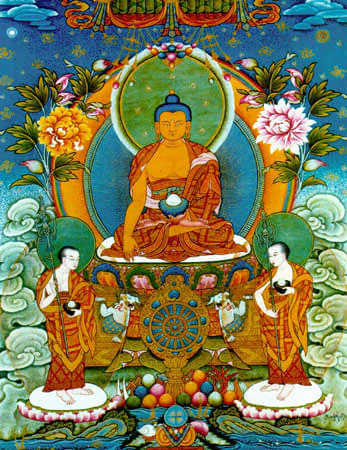 parṇa-śavarī-sādhana
The Practice of Parna-shavari
    I prostrate before the noble Parna-shavari!
    [Performing] the rituals that have been proclaimed earlier, meditate on emptiness. Then [imagine] the green syllable paṁ on the multi-colored lotus and the moon. [From it appears] Parna-shavari with a green body, three faces, three eyes [on each], six arms. The right and left faces are black and white. In three right hands he holds a vajra, an ax, an arrow. In his three left hands he holds a drawn bow, a branch and a lasso together [with the mudra] of a scorpion. The angry faces smile slightly. Young and young. She is entangled in garlands and possesses a skirt made of tiger skin. The belly hangs down slightly. Hair billows up. From below, he tramples under his feet all the diseases and the demon-Maru. The head is decorated with Amoghasiddhi. Immediately generating as yourself, recite the mantra:
    oṁ piśāci parṇa śavari sarva māri pra śamaṇi hūṁ phaṭ
    This is the end of the Parna-shavari practice.
    Translated by Dhondup Dorje Tulku.