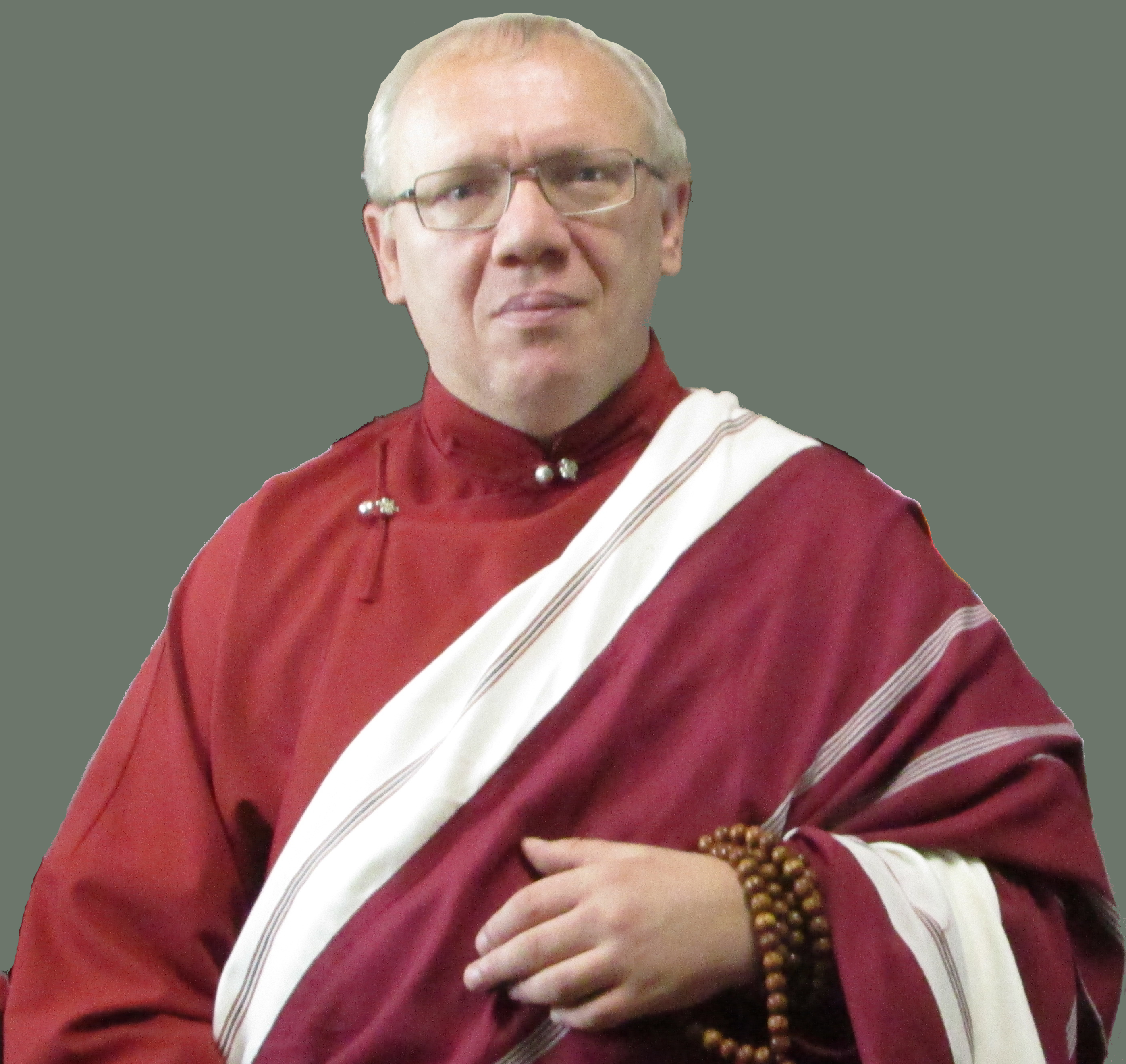 Tulku Dondrub Dorje (O.E.Filippov)
Short biography
   1988-1993 - Ulyanovsk Polytechnic Institute (now Ulyanovsk State Technical University). Software engineer.
   Refuge in May 1991.
   1995-1998-study at the Karmapa International Buddhist Institute (Elista). He studied the Tibetan language, Lamrim Gampopa (the course was listened to several times), texts of Shantarakshita (Decoration of the middle), treatises of Asanga-Maitreya, the theory of correct perception of Sakya Pandita (pramana). The training took place under the guidance of Khenpo Karma Chochog, Khenpo Tsultrim Tarchin, Khenpo Tsering Samdrub. In his third year, he taught Lamrim and Tibetan under the guidance of Khenpo Tsering Samdrub. I was one of his translators.
   During learning, he received various transmissions, such as the practices of Tara (Chokling tersar), Mahamudra of the Third Karmapa, the practices of Vajrakilai (Chokling Tersar), Mahakala (Bernagchen), Manjushri, Avalokiteshvara, six-armed Mahakala and many others related to various areas of Kagyu, Nyingma, etc.
   Also during training, made his first translations, which include: the White Tara sadhana, sadhana Vajrakilaya, some texts of Sakya, the six-armed Mahakala sadhana, prayer for birth in Sukhavati the country.
   2000-2001-postgraduate study at Ulyanovsk State University, majoring in philosophy.
   2009-2011 - learning at Nangi Shedra (Dharmacharya Ken Holmes, Samye Ling, Karma Kagyu). The course included the study of many texts on various aspects of history, theory and practice (sutra and tantra) for three years.
   Since 2002, he has translated many texts for various individuals and centers of buddhism and bon. In particular, translations were made for centers and students of such teachers as Pema Rangdrol Rinpoche, Geshe Rinchen Tenzin, Chokyi Nyima Rinpoche, Patrul Rinpoche, Karma Puntsog Rinpoche, Karmapa Thaye Dorje, Karmapa Urgyen Trinle Dorje, Pema Dorje Rinpoche, Lama Yonten Gyamtsho, etc.
   Translated texts of Dujom Tersar, Karma Kagyu, Chokling tersar, Bon, Jonang, etc. He also gave advice on translating various texts for other people, taught the basics of the Tibetan language, etc.
   Together with V. P. Androsov, he worked on the translation of the Root Stanzas of Madhyamaka (Nagarjuna), Sixty Stanzas (logical arguments), and so on. He led a joint project to digitize dictionaries (in particular, the Roerich Dictionary).
   He received transmissions and teachings from various Buddhist and Bon teachers: Geshe Rinchen Tenzin, Garchen Rinpoche, Pema Dorje Rinpoche, Lama Deni, khenpo Karma Chochog, khenpo Tsultrim Tarchin, khenpo Tsering Samdrub, Karma Puntsog Rinpoche, Tsewang Dongyal Rinpoche, Palden Sherab Rinpoche, Namhai Norbu Rinpoche, lama Yonten and other teachers of Buddhism and bon.
   In addition to translations for various centers and individuals, significant projects include cataloging Kangyur and Tengyur Dege in Russian, cataloging the Tengyur collection, etc. The total number of translations at the moment is more than 800 texts of various subjects. He also developed software for Tibetan astrology.
   Currently, administrators and translators of edharmalib.com.
   In 2020 received the title of Lama teacher Karma Paljor (MBRO "Management of the Daa Lama of the Ulugh-Khem Kozhuun of the Republic of Tyva") and additionally the title of lama-translator.
    At the end of 2020, HH Gurdrag Dragmar Khentrul Rinpoche recognized him as the incarnation of Lama Dhondub Dorje (servant and helper of Terton Sangye Lingpa). A copy of the letter will be available shortly.
    It is also closely related to the Dorje Lingpa transmission line and Bhutan.
Letter