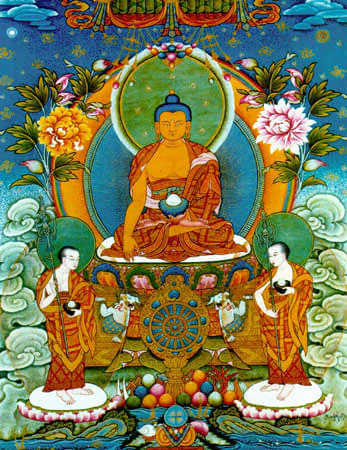 ārya-suvarṇa-sūtra-mahāyāna-nāma-sūtra
A noble [teaching]. The Great Chariot Sutra. The Sutra of Gold.

    I give praise to all the Enlightened Ones and Bodhisattvas!
    That's what I heard once.
    The Blessed One was in the garden of Anathapindada in the grove of Jetavana in Sravasti. At this time, the venerable Ananda addressed the Blessed One, saying:
    Blessed one! What is the enlightened attitude?
    The Blessed One replied:
    Venerable Ananda! The enlightened attitude is to be perceived as being like gold in its own nature. Gold is by its own nature perfectly pure. Similarly, the enlightened attitude is perfectly pure by its own nature.
    Even if the blacksmith separates the different parts while working with the gold, the gold's own nature does not change. Similarly, even if various and special qualities are manifested in the enlightened mood, [they] are not separated from the enlightened mood [on the truth level] of the absolute level. Therefore, his own nature is unchangeable.
    Then the Blessed One said the following verse:
    The essence of the enlightened attitude is perfect purity.
    Be diligent in [achieving] your own goals and the goals of others.
    Meditate on the unreal as an entity.
    Trust to the reason of the appearance of wisdom.
    The Blessed One said so. The surrounding people, together with the venerable Ananda, the universe, along with the gods, people, asuras and Gandharvas, rejoiced and gave praise to the Blessed Ones.
    Thus ends the noble [teaching], the sutra of the Great Chariot-the Sutra of gold.