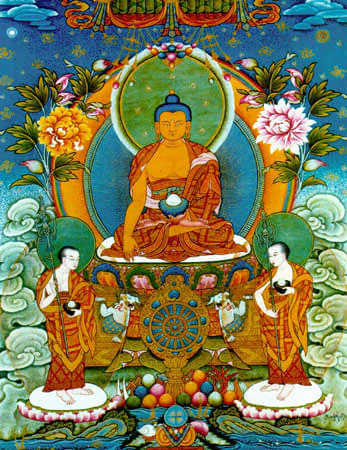 ārya-avalokiteśvara-paripṛcchā-sapta-dharmaka-nāma-mahāyāna-sūtra
A noble [teaching]. The Great Chariot Sutra. Questions of Avalokiteshvara " Sutra of the Seven Teachings»
    I prostrate myself before the Blessed young Manjushri!
    So I heard once.

    The Blessed One was on Mount Gridhrakuta in Rajagriha, along with a Good Assembly of monks, one thousand two hundred and fifty in number, and extremely numerous Bodhisattvas-mahasattvas.
    Then the bodhisattva-mahasattva Noble Avalokitesvara rose from his seat. Throwing part of the outer garment over his shoulder, he stood with his right knee in the middle of the lotus. He put his hands together and bowed towards the Blessed One. He said the following:
    Blessed one! In what teachings should a bodhisattva train immediately after the birth of an enlightened mood?
    Said so, and the Blessed One said the following to the bodhisattva-mahasattva noble Avalokitesvara:
    Son of the [noble] family! Immediately after turning the mind to enlightenment, the bodhisattva will train in the seven teachings. What seven? They are like this. If you do not act by relying on desire in your thoughts, then is it necessary to talk about connections through two abilities? Even if you are in a dream, you will not act relying on an unkind friend. You will act without any clinging with the mind, which corresponds to actions. One who is versed in methods and wisdom will act without pride and clinging to the self. Having discarded the material and immaterial, he will act with stability in the perfect liberation of emptiness. Understanding the fictional, which is not reliably true, will not act with obvious joy on the basis of a cyclical existence, which is like an illusion and a dream. It will not act by denying the cause and the result.
    Son of the [noble] family! Immediately after the mind is directed to enlightenment, the bodhisattva will practice the seven teachings.
    The Blessed One said so, and the noble Avalokitesvara Bodhisattva, the monks and Bodhisattvas rejoiced and praised what the Blessed One had said.
    Thus ends the Mahayana sutra, entitled " The Seven Teachings Requested by the Noble Avalokitesvara."
    Translated by: The Indian mentor of Dipamkara Sri Jnana and translator is the monk Gevei Lodro.
    Translated by Lama Karma Paljor (O. E. Filippov).