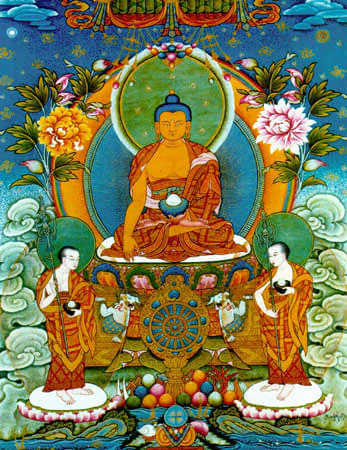 ārya-catur-dharma-nirdeśa-nāma-mahāyāna-sūtra
The Noble [teachings]. Sutra of the Great Chariot. Explanation of the Four Teachings
    I praise all the Enlightened ones and bodhisattvas!
    So I heard once.
    The Blessed One was with a great good assembly of five hundred bhikshu monks and extremely numerous bodhisattva-mahasattvas, including Maitreya, Manjushri and others, in the good teaching, the gathering place of the thirty-three [gods] gods [of heaven].
    Then the Blessed One addressed the bodhisattva-mahasattva Maitreya:
    Maitreya! If the bodhisattva-mahasattva possesses the four teachings, he will suppress with greatness the evil that has been accumulated and realized.
    What are the four? These are the realization in relation to everything of full repentance, the use in relation to everything of antidotes, the power of realization of restoration, the power of foundation.
    Here is the realization of full contrition in relation to all things - multiple regret if ungodly acts have been carried out.
    Here the use of antidotes in relation to everything is special diligence in virtuous deeds, even if ungodly deeds were performed.
    Here the power of the exercise of restoration is the taking of vows that do not destroy, definitely taken before.
    There the power of foundation is the movement toward refuge in the Enlightened Buddha, the Doctrine-Dharma, the Good Assembly-Sangha. The absence of renunciation of the enlightened mood-bodhichitta. Because one relies on the possession of such power, it is not possible that one will be overwhelmed by the greatness of the pernicious.
    Maitreya! If the bodhisattva-mahasattva possesses these four Teachings, he will suppress the greatness of the harmful things he has accumulated and is doing.
    Bodhisattva-mahasattvas will constantly recite this sutra, constantly recite, constantly meditate, constantly meditate, perform repeatedly.
    Through this, the fruits of wrong actions will not be able to descend.
    The blessed one said this. Everyone around, including bodhisattva-mahasattva Maitreya, bhiksha monks, bodhisattvas, divine sons like Shakra, etc. - rejoiced and praised what the Blessed One had said.
    Thus concludes the noble [teaching], the sutra of the Great Chariot, the Explanation of the Four Teachings.
    The text was translated and verified by the Indian preceptor Surendra-bodhi and the translator-corrector Bende Yeshede.