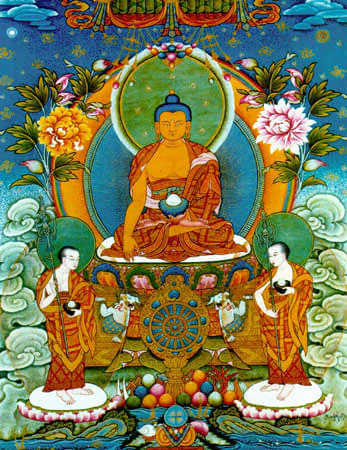 ārya-dharma-ketu-mahāyāna-sūtra
The Noble [teaching]. Sutra of the Great Chariot. Dharmaketu Sutra.
    Prostrate myself before all the Enlightened ones and bodhisattvas!
    So I heard once.
    The blessed one was in the joyful garden of Aram, the householder of Anathapindika, the garden of Jethavan in Shravasti. At that time, the bodhisattva Dharmaketu was in his entourage. He got up from his seat and said the following to the Blessed One:
    Blessed One! With [what] qualities will a bodhisattva quickly become a consummate, truly perfect Enlightened One?
    The Blessed One replied:
    Son of the [noble] family! If a bodhisattva possesses the ten qualities, he will quickly become the unsurpassed, truly perfect Enlightened One. What are the ten? So, the bodhisattva must act with faith, must act with an enlightened disposition, must not turn away from a virtuous friend, must renounce amusement and relate to solitude, must proclaim in perfection the precepts of the teacher-guru and preceptor, must have compassion, must have learning in many ways, must have deep concentration-samadhi, must have moral discipline, must have the power of perfect zeal to accomplish all goals without exception. The blessed one said so.
    So said the bodhisattva Dharmaketu and all those around him - praising what the Blessed One said.
    Thus ends the noble [teaching], the sutra of the victorious banner of teaching. Translated by Karma Paljor (Filippov O.E.).