Library - Canonical work - Tengyur - Comments on tantras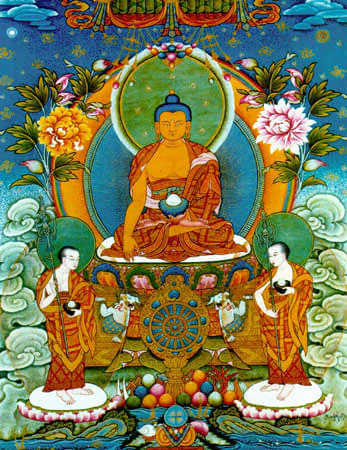 hevajra-stotra
Hymn to Hevajra
    Everything [in your manifestation] is the supreme nature of matter! Initially, everyone [appears] as a Tathagata! You possess the essence as the essence of non-duality! I prostrate and praise to Hevajra!
    The blue [face] is the unchanging dharmata! Red is an unstoppable flow of compassion! As the [hair] rises up, you lead the creatures! I prostrate and praise to Heruka!
    The three eyes are the three perfect liberations! Since red is the essence of the strata and dharmata! The sound of hūṁ does not appear as born! I prostrate and praise to the chief among all!
    In the right [hand] is the vajra that destroys the poison [creatures]! In the left [hand] dripped that keeps the bliss! The symbol of wisdom is the khatwang wand! I prostrate and praise to sambhogakaya!
    Kapala - the matter of the five primordial wisdoms! Five mudras — five families! Garlands and necklaces discard the composite! I prostrate and praise to you, nirmanakaya!
    Your lotus seat is not obscured by obscurations! The corpse of Brahma has no thoughts! The sun-burns ignorance! I prostrate myself and praise to the body that is not covered with dirt!
    So it ends.
    Translated by Lama Karma Paljor (O. E. Filippov).
Make an donate on the page: Project support