Library - Canonical work - Tengyur - Comments on tantras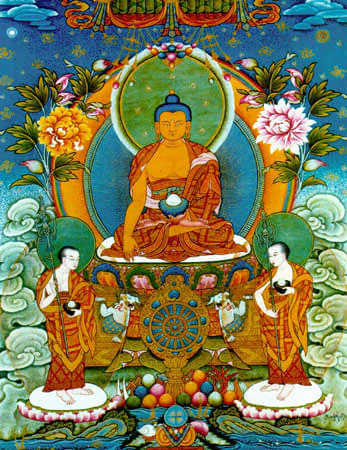 jambhala-sādhana
Jambhala practice
    I prostrate before the Blessed Noble Avalokiteshvara! I prostrate to Bodhisattva Jambhala!
    If those who desire jewelry wish to meditate, perform the rituals as explained earlier. When you do this, in another [place] a seed-syllable appears, the third of the third [row of syllables], yellow, crushed by bindu and decorated with a half moon. The protector that appears from there is Jambhala with one face and two arms. The right one holds the vījapūri. The left one holds a mongoose, which is pouring a rain of jewels. Possesses the diadem of the five Enlightened Ones. Both feet press on the great treasury, which has a lotus head and a conch head. A rain of jewels is pouring down, etc. Imagine it in the same direction as your own home.
    A garland of blue dips looks down, adorned with all the ornaments. Meditate on yourself as Jambhala.
    Then [compose] the mudra. When you make up the palms of your hands with an empty space [inside], make a mudra when the third knuckles of the middle fingers separate. With this wise person, touch the heart, between the eyebrows in the middle of the forehead, neck and crown. And recite at the same time:
    oṁ jaṁbhala jalendrāya svāhā
    With this one hundred and eight times offer a portion for the bestowal of water. When you have made offerings as well, recite. Then you will undoubtedly appear as the great lord of jewels.
    This is the end of the practice of the protector of Jambhala.
    Translated by Lama Karma Paljor (O.E.Filippov).
Make an donate on the page: Project support